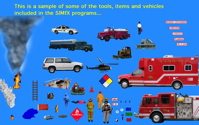 Vehicles: Structural and Wildland Fire Trucks, Engines, Tenders, Ambulance, Helicopters, Police Car, Civilian Car and Van, Commercial Truck, Bulldozer and First Aid Truck.

Personnel: Firefighters, Incident Commander, Police Officer, Crowed, Visible Occupant, Victim, Medical Attendant

Items: Hoses, Ladders, Water, Foam, Retardant Drop, Chemical Spills, Hydrant, Utility Pole, PPV Fan, Buildings, Propane Tanks, 45 Gallon Drum, Safety Cones and much more.

Hazards: Various Size Flames, Light & Dark Smoke, Burnt Area, Flashover, Vapour Cloud, Haz-Mat Placards, and other items

Symbols: Icons for strategic scenarios, such as Engine, IC Post, IC Base, Medical Unit, Heliport, Ladder Truck, Police Car, Numbers, ICS symbols and more.

Sounds: Over a dozen sound effects running on two channels.

Background Pictures: 42 Background pictures of Homes, Buildings, Interiors, Interface areas, Wildland scene's, Water craft, Industrial sites, Maps, Aerial views, etc.